Renovated and reopened several years ago, the Central Park Wildlife Center was the first of the New York Zoological Society's city zoos to be revitalized. This beautiful oasis in the heart of "the concrete jungle" is well designed and organized to present the public with a wide variety of wildlife in simulated natural habitat.
The Tropic Zone recreates a rain forest, complete with a riverbank, cave, towering tree trunks, and a 20-foot roaring waterfall. Colobus monkeys, crocodiles, snakes, lion tamarins, bats, colorful birds, red-bellied piranha and many other tropical species live here.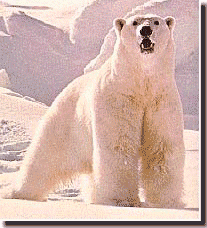 The Polar Circle features animals from both the Arctic and Antarctic. Polar bears swim in their blue pool, while penguins, puffins and arctic foxes make this wonderful environment complete.
Temperate Territory contains outdoor habitats for Asian and North American animals. Landscaped paths lead to a lake with an island -- home of the Japanese snow monkeys. Farther along Asian red pandas, racoon-like cousins to the panda bear, live in their treetop habitat. Central Garden is a highlight of Temperate Territory. Here sea lions live in the simulated rocky coast of California.
There is a Wildlife Conservation Center with special exhibits on this subject and information on how people can become involved. The Zoo Gallery features changing exhibitions of wildlife art and photography.
The Zoo also features a nice Gift Shop with a variety of unique items and books.
As well as being a great place to visit, the Zoo is an important educational resource. Great educational programs for families introduce children and adults to different aspects of wildlife and conservation at Zoo School. Some programs are multi-session, conducted over several days. Subjects cover from discovering the variety of animal shapes and sizes for pre-schoolers through learning some of the secrets of rare Himalayan Red Panda, for adults. (A pair of beautiful red panda twins was born at the zoo a few years ago)
School Groups from pre - K through college can enjoy a self-guided tour or a hands-on educational program such as, Animal ABCs (pre - K - K): an introduction to wildlife, including touching live animals; Trekking the Tropics (1 - 3): introduces students to the animals and plants of the tropics; Wildlife of the Polar Regions (4 - 12): students compare the geography and wildlife of the Arctic and Antarctic and learn how development threatens both regions; and Endangered Animals (4 - 12): explores the reasons why thousands of species are in danger of extinction, and what is being done about it. A number of other programs are also available. Most last 75 to 90 minutes and will accommodate up to 35 students.
Special Programs for Teachers are also offered to aid in teaching a variety of subjects.