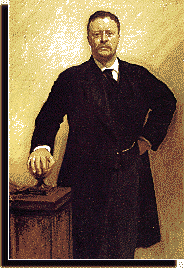 Arguably the most colorful president in American history, famous as an outdoorsman and a colonel of the Rough Riders regiment during the Spanish-American War, Teddy Roosevelt was a frail and sickly child who suffered from severe asthma and other ailments. At 12, however, his health began to improve and through diligent exercise he became the tough, strapping young man he is remembered as.
The original brownstone Roosevelt was born in was demolished in 1916 to make way for a commercial building, but in 1919, the year of Roosevelt's death, some prominent citizens purchased the site, razed the commercial building, and reconstructed his home as a memorial.
Today the period rooms of the house are restored to reflect their appearance between 1865 and 1872, with 40 percent of the furnishings from the original house. Another 20 percent belonged to cousins or other family members.
A tour of this house gives a unique insight into the early life of this most memorable man, providing a great educational experience for both families and groups.
Operated by the National Park Service.