Operated by the Valley Railroad Company, this charming attraction features two operating engines: Engine No. 40, a 2-8-2 engine built in 1920 and Engine No. 97, a 2-8-0 "Consolidation" type locomotive built in 1923 by the American Locomotive Company's Cooke Works. Visitors can ride a restored 1920's vintage coach, parlor car, or a partially-open observation and then transfer to an old time river boat for a picturesque tour of the Connecticut River.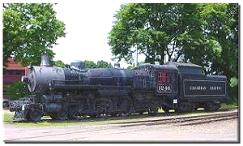 The scenery from both rides is beautiful, with views of quaint old houses, country lanes, green meadows, woods, streams, and famous sights. A narrator points out places of interest along the way. The Train ride is one hour long. Visitors riding both the Train and the Boat will enjoy a scenic 2 and 1/2 hour journey. There are also vintage rail cars, a working railroad yard, and steam and diesel locomotives to explore.
For individuals, families or groups who enjoy old-time trains and the wonderful atmosphere of yesteryear, Essex Steam Train and Riverboat provides a nice opportunity for a one-day vacation.
Photo courtesy of Daveda Lamont
---
Hours: Open weekends and Memorial Day in the spring; Daily in the summer, including Labor Day; Weekends during the fall, with additional days during Foliage season; and there is a holiday schedule around Thanksgiving and the Christmas holidays. Visitors should call or visit the Train's official site for a detailed schedule.
Admission (Train and Boat):
Adults
$26.00
Children 2 - 11
$13.00
Children under 2
FREE
Admission (Train only):
Adults
$17.00
Children 2 - 11
$9.00
Children under 2
FREE
For Parlor Car, Observation Car or Caboose, add $5.00. Rates do not include dinner tours or other special trains. Parking is FREE. Discounted family passes are available. Senior citizen discount. Private charters available.
Groups: Discount available for groups of 20 or more with advance reservation.
Group Reservations: At least 2 weeks in advance.
Lunch: Snack bar on grounds.
Handicapped Access: Partial.
Directions: I-95 north to Connecticut exit 69. Take Rt. 9 to exit 3. Left from exit. Valley Railroad Company is ¼ mile on the left. About 2 hours from the George Washington Bridge.