Housed in Staten Island's famous Snug Harbor Cultural Center, the Museum is a place where children of all ages can use their natural curiosity, creativity and imagination to explore many exciting aspects of the world around us. Since 1976 the Museum has given children the opportunity to enjoy a unique perspective on art, science and the humanities. Naturally, the Staten Island Children's Museum is a lot of fun.
Entering the museum, visitors encounter a six-foot long kinetic porpoise. Suspended in the atrium he perpetually arches his tail and snaps his jaw in pursuit of a school of minnows.
The exhibits here are interactive, designed to entertain kids as they educate them. They include:
Great Explorations
Children can explore the canopies and ceaves of the Rainforest, dive the ocean depths, and climb an ice wall in the frozen tundra in this exciting interactive exhibit.
Wonder Water
Introduces children to the fascinating world of this most ordinary substance. Cohesion, buoyancy and other phenomena are demonstrated by a super hero droplet as he changes from solid to liquid to gas in the comic book adventures of Wonder Water!
Children can conduct a variety of interesting experiments, including weighing the water in their bodies, view the tiny life forms in drops of water through a video microscope, and "boil" water by speeding up a model of its molecules.
Wonder Water has many other fun and interesting activities to give kids a hands-on education about our most important liquid.
Bugs and Other Insects
This exhibit features a collection of more than 200 mounted insects and 94 examples of insect-inspired art. Young students can examine insects in various stages of development, get a close-up look at bugs, learn about insect camoflage techniques, and even crawl through the life cycle of an ant in the human scale ant hill with soft sculpture eggs, larvae and pupae inside.
Let's slither on to . . .
Block Harbor
Here children can climb, build, and explore a harbor-waterfront environment set against a seascape mural featuring characters from children's literature having to do with the sea.
A fantasy frigate with ten teaching artifacts allows children to turn a ship's wheel, ring the bell, and engage in other seafaring activities.
The Walk-In Workshop
For budding artists, this area features a library of materials that kids can use to explore the visual arts. It is designed to let them work independently, from color to clean-up. Open weekdays from 12 to 4pm.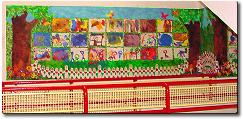 Portia's Playhouse
The arts once again -- the performing arts. This playhouse features costumes, props, and stage makeup for kids to try. Theatrical lighting, special effects and a sound board give children a taste of what it takes to put on a show.
School Groups at the Playhouse can explore improvisation under the direction of a museum educator using classic fairy tales and poems as the foundations of their performances.
These exhibits, combined with a number of others, will keep kids busy for hours, having fun and learning, too.
Throughout the year the Staten Island Children's Museum offers a variety of family programs and workshops, many of them emphasizing the visual and performing arts, and even the culinary arts! Call for a calendar.
The Museum also offers great Birthday Party packages, sleepover opportunities, and more. And there is a nice gift shop.
Feeding Time
Every day at 3pm the Museum's guinea pigs, fish toads and bugs get fed, and visitors are invited to watch and learn!
Other special activities for youngsters of different age groups are offered several times each week, throughout the year. Call for more information.
---
Programs for School Groups The Staten Island Children's Museum is the place to go for elementary school groups. A variety of great programs are available, including several that can be conducted at school. Call for details. The Museum also offers programs for children who are mentally or physically challenged, as well as Teacher Orientations and training.

When all is said and done, the Staten Island Children's Museum is an outstanding resource for youngsters.