Museum Village offers the opportunity for visitors to see, touch, hear, and understand life in 19th century America.
The beautiful 17 acre site includes a
Weave Shop
Log Cabin
Blacksmith
Energy Building
Pharmacy
General Store
School House
and much, much more.
Amongst other exhibits, the Natural History Building features a mastodon called Harry -- one of the three most complete specimens in the world.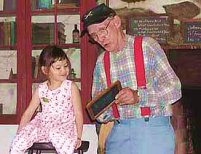 An excellent resource for the family, Museum Village also offers a full calendar of special events throughout the season. Visitors can enjoy a Civil War Reenactment, a Thanksgiving Tasting, Firefighters Day, Christmas in the Village, and many other exciting, educational events. Visit the official website linked above for up to the minute news
As a non - profit educational institution, Museum Village offers several excellent School Programs for all grades. The newsest offering, The Village Sampler, allows students to experience hands-on learning in staffed buildings. Churning butter, using mortar and pestle, operating an old fashioned printed, and dipping candles are just some of the activities they will enjoy.