This unique and educational museum offers something you are not likely to find elsewhere: the history of Harness Racing. A popular event these days, harness racing has been hailed as the original Great American Pastime.
Housed in a beautifully restored gentleman's stable, the Museum features exhibits of antique sulkies and sleighs, trophies, lifelike statuary, paintings, Currier & Ives prints, and more. And a realistic 3-D Harness Racing Simulator gets the blood flowing!
Follow the trail of Hambletonian, one of the most famous horses in harness racing. This lucky guy made his name not by racing -- he was raced only once -- but by siring over 1,300 foals. He was a champion, and Hambletonian blood dominated the breed of trotting and pacing horses and continues to do so today. The Hambletonian Stake, first raced in 1926 at the New York State Fair, has remained one of the sport's premiere events and today is run at the Meadowlands for a purse exceeding one million dollars.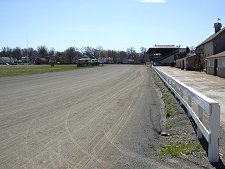 Individuals and families will enjoy this museum, as as well as the special events that take place here throughout the year. Visitors to the Museum will also want to visit neighboring Historic Track, the world's oldest track, where horses and their trainers can be seen working out. Special races are held here, and those interested should call for details.
School Programs for grades Pre-K through 12 include, The Winter Program (grades Pre-K-3): offered from November thru January, this program illustrates winter life in days gone by and includes craft making, sitting in a one-horse open sleigh, a stable tour and a ride on the Museum's 3-D Harness Racing Simulator. Hambletonian's Birthday (grades 3 - 5): students retrace the story of this famous horse, developing language skills and vocabulary as they act out scenes of local, regional, and social history and watch real horses in training. Through the Eyes of Currier & Ives Printmaking Workshop (grades 4 - 12): through slides, discussions, and examination of original prints, students learn about printmaking. Then the group creates an original print using a method similar to lithography. Several other unique programs offer students a glimpse of the history and culture related to horses. Call for complete details.