The Mid-Atlantic Center for the Arts (MAC) is a non-profit organization that is dedicated to the preservation and interpretation of Cape May's heritage. MAC is Cape May's leader in cultural and heritage tourism and offers a year-round schedule of special events, as well as walking, boat, trolley and house tours.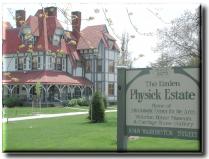 The Emlen Physick Estate is operated as Cape May's only Victorian house museum. It is also home to MAC. Step back in time to the Victorian era with a visit to the 1879 Emlen Physick Estate, located at 1048 Washington St. in Cape May. The 18-room mansion provides an in-depth glimpse of the period, reflecting the Victorian lifestyle through the way the Physick family and their servants lived, worked, and played. Changing exhibits in the house reflect the seasons and different highlights of the Victorian lifestyle enjoyed by Dr. Physick and his family. The history of the Physick Estate comes to life through guided tours and living history performances, including visits from Dr. Physick, himself.
The Carriage House, built in 1876, now houses the Carriage House Gallery which hosts an array of changing exhibits. The Victorian experience is completed at the Carriage House Tearoom and Cafe, which brings an English tradition to Cape May. It features a Tea Luncheon of sandwiches, salads, soups, breads, pastries and beverages, and Elegant Afternoon Tea of finger sandwiches, pastries, scones and beverages. The café menu also offers heartier fare with a selection of entrée salads, soups, sandwiches and wraps. Choose to dine outside under the patio tent, or inside in the original horse stalls. The Tearoom is open seasonally; check for hours and availability.
The Cape May Lighthouse, Oil House and Museum Shop: The lighthouse is an 1859 structure with 199 steps to a breathtaking panoramic view of the Jersey Cape and Atlantic Ocean. The Museum Shop carries souvenirs, books, videos and other maritime items. The lighthouse is located in Cape May Point State Park, Lower Township.
MAC also offers a wide range of wonderful tours of Victorian Cape May. Hop aboard MAC's red trolley for a guided tour of the historic district, beachfront mansions, West Cape May, lighthouse and much more! Fisherman's Wharf tours, Beachcombing at the Cove, and tours in conjunction with the Nature Center of Cape May reflect Cape May being an environmental tourism destination.
There are walking tours both guided and self guided of Cape May's private homes, historic B&B's, inns, churches, its historic district and more! Tour Cape May by boat aboard the Cape May Whale Watch during Around Cape Island boat tours and Delaware Bay Lighthouse Adventures.
Take a winery cellar tour & tasting at the renowned Cape May Winery. Celebrate the holiday season in Cape May with special tours for the Christmas season like annual Christmas Candlelight House Tours, Santa's Trolleys, Lamplighter tours, and much more. Get into the Halloween spirit with Phantoms of the Physick Estate, Midnight at the Physick Estate with physic medium and ghost writer Craig McManus, Madame Parmentier's Physic Tea, and more!
The World War II Lookout Tower is an exciting recent addition to the MAC's historical attractions. Built in 1942, Fire Control Tower No. 23 was one of 15 towers that helped aim coastal artillery batteries in defense against German ships and submarines. Listed on the National Register of Historic Places in 2003, the Tower, located in Cape May Point State Park, was restored in 2008-09 and is open for visits, providing another great family destination as well as a breathtaking view.
Features include
a Watch Room
Viewing Platform
Interpretive Displays
a Wall of Honor with then-and -now photographs of more than 100 area WWII veterans
and an All Veterans Memorial.
A small admission fee is charged. Call MAC for hours and details, or visit their official website, linked above.
There are special tours and activities for children like Kids Day and Cape May Kids Playhouse during the summer, as well as children's trolley and Physick Estate tours that are specifically designed for three- to twelve-year olds. Several others are available, some combining a gourmet luncheon, brunch, dinner, desserts and other features at a famous Cape May restaurant. Some tours are seasonal and some are offered on specific days. Call for details.
Groups (20 or more) also have many options when choosing to tour Cape May. An itinerary can be arranged. Tours vary seasonally. Call for details.
MAC will customize a tour for any School Group, offering a highly educational and fun experience to all grade levels. An educational program available for most grade levels focuses on the Lighthouse. Outreach Programs are available.
MAC also sponsors a number of annual events, such as Sherlock Holmes Weekends, Cape May's Spring Festival, Cape May's Music Festival, the Designer Show House, the Cape May Food & Wine Festival, Victorian Week and Christmas in Cape May. There are workshops, activities, food and dining events, and living history programs the entire family can enjoy.