Occupying more than 425 acres of the Great Swamp Basin, the Center is home to a diversity of wildflowers, grasses, shrubs, and saplings, all of which provide an excellent wildlife habitat. This is one of the most beautiful areas anywhere.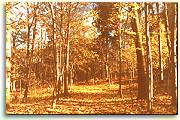 The Center is committed to increasing awareness and understanding of our environment by providing a learning experience that cannot be duplicated elsewhere. Families will find it a great place to spend weekend days, with a full calendar of programs, workshops, and nature-related special events. Call for a schedule.
A number of great School Programs are available for grades pre-K and up. They last from 1 to 3 hours (can be more for specially designed programs), and here are a few samples:
Let It Rot (all grades): Learn about recycling and decomposition. Creatures such as fungi, earthworms, and termites will be discussed as students dig through rotting logs with a Naturalist.
Sensory Sleuths (pre-K to 1): Explore the five senses and use them to discover the natural world. Nature walk and hands-on activities will provide opportunities to look, listen, feel and smell!
Wildlife (grades pre-K to 2): Explore marshes, ponds, fields and forests to introduce young children to the natural world. Search for signs of wildlife while discussing what every living thing needs to survive and how humans can affect wildlife around them.
Pondering Life (grades 2 to 4): Learn about life in a pond as students are introduced to the concepts of community, habitiat, food chains and adaptations for aquatic life. Take a first hand look at pond life with the use of dip nets and field guides. Adult chaperones required with 6:1 ratio.
Basically Bugs (grades 2 to 5): Learn about insect life cycles, adaptations, and diversity. Includes sweep netting and identification of captured insects.
Ecological Exploration (grades 2 and up): Hike and discuss the basic principles of ecology. Students will investigate different communities including marsh, field, and forest.
More field trip programs are listed on the Somerset County Park Commission website, linked above.
Maple Sugaring programs are offered January and February for school groups, focusing on the discovery, history and process of making maple syrup.
Other special exhibits and events throughout the year make this a very special place for school groups, individuals, and families. Birthday Parties here for children five and older can have one of these themes: Super Science, Where the Wild Things Live or Cool Critters.