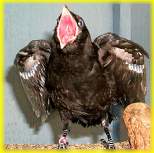 This is the leading raptor rehabilitation facility this side of the Mississippi, caring for thousands of injured and orphaned raptors and other wild birds (such as this hungry crowlet*) each year. Over the past few years, the Raptor Trust has grown significantly and now includes a new Education Center that delivers the best programs around. Each program can be geared to third grade through college level as well as adult groups. Programs are also available for individuals and families.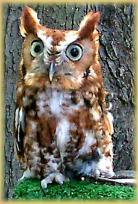 A simple visit to the Trust is a thrill, to see these beautiful birds so well cared for. These are casualties, many of them brought in by concerned people who found them injured, ill, or as orphaned babies. The professionals at the Raptor Trust give these birds their best chance at recovery and, when recovered, the birds are released into an area where they will flourish. Unreleasable birds are given permanent homes, here or elsewhere, with some being used for live educational demonstrations, such as Chainsaw*, the Eastern Screech Owl here.
Programs include: The Raptor Trust Story, describing the workings of this fantastic place. Students look "behind the scenes" and meet some of the patients that have been brought in for treatment. Raptors demonstrates the differences and similarities between hawks and owls, and explores the biology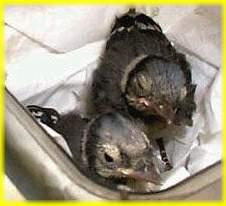 of these unique birds. Students get to know the common resident species of New Jersey, and some of the less common visitors. Owls of New Jersey is an in-depth look at the lives of these interesting and often misunderstood nocturnal birds of prey. Hawks of New Jersey explores the world of diurnal raptors. Resident and migrant hawks are shown in detail, and many aspects of their natural history are revealed. The Education Building seats 40 people. These programs can also be conducted at school.
If I sound biased toward the Raptor Trust, I must confess that I've brought a couple of birds here myself, one orphaned and one shot. Both birds were treated to recovery in a caring, professional environment, just as these two orphaned bluejays are. I've been in a hospital, myself. I'd much rather be here!
All photographs on this page copyright ©1999 by Ellen Goldberg of The Raptor Trust.