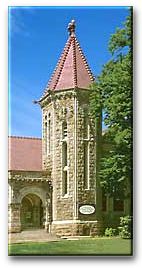 This neat museum presents the history, technology, and life ways of the everyday people of pre-industrial New Jersey through a variety of displays, exhibits and programs. Items from the 8,800-artifact collection introduce visitors to the world of carpenters, coopers, tinsmiths, masons, stone cutters, cobblers, homemakers, farmers, doctors, and other early settlers who lived and worked in a time when ready-made goods were scarce.
The museum reopened in 1997 after a complete restoration of the historic James Library building that has been its home since 1970. This beautiful century-old building is noted for its stained glass windows, stenciling, glass floor gallery, and an 1899 Seth Thomas clock that still runs by its original weights. The all-new permanent exhibits include cooper's, shoemaker's and cabinetmaker's shops, and a small distillery. A Family Life exhibit illustrates the lives and tools of a family in mid-19th century New Jersey. Special exhibits -- often including hands-on activities, games, and videos -- focus on various aspects of everyday life from 1700 to 1860. Exhibitions are well done, professional, and designed to be enjoyed by people of all ages.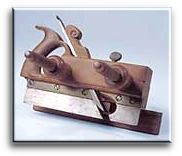 A full calendar of events and family workshops has included such interesting activities as blacksmithing and wheelwrighting demonstrations, craft workshops such as quilting and woodworking, traditional performances of 18th century music and storytelling, lectures, walking tours, and many others. Call for a current calendar.
The museum places particular emphasis on programs and activities for children. Kids Club meets monthly for ages 6 to 11. Each month club members are introduced to a new trade such as shoe making or book binding, and make a related craft to take home. School-vacation-week programs happen in February and December, while scout activities present badge programs after school and on Saturdays. There are a number of other after-school youth programs.
Programs for School Groups combine interactive learning, observation, and fun.
Tradesman and the Community (grades 2 - 4) uses role playing, group activities, artifacts from the Education Collection, and a tin piercing activity to explore the role of tradesmen in a small community.
Measuring Tools of Early Trades (grades 5 - 8) focuses on measuring devices used in the home and shop. The program incorporates discussions, hands-on activities, and problem solving using group learning activities and objects from the Education Collection.
Other programs include A Child's Life in Early America (grades 2-4), which explores life in early 19th century America, and Decoding the Past (grades 3-6), an introduction to material culture studies in which students explore the kinds of information one can learn from objects. Teachers can call for a School Program brochure.

Programs will accommodate up to 55 students.