This beautiful 6,254-acre area, owned and operated by the Pennsylvania Game Commission, is set aside for the protection, propagation, management, preservation, and controlled harvest of wildlife.
The property consists mostly of oak-hickory forest, while open meadows also exist where farmlands were incorporated into the property. Ringneck pheasants, bobwhite quail, and cottontail rabbits can be found in the farmland areas. while songbirds, whitetail deer, and an occasional ruffed grouse or woodcock can be seen in the forest or along its edges.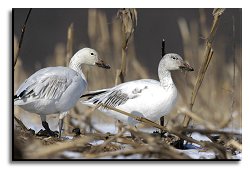 A 400-acre man-made lake, provides important habitat for waterfowl, including mallard and wood ducks and Canada geese. Nesting islands in the main lake were actually built for Canada geese, and a large flock remains in the area year-round.
This is a great place for hikers, bird watchers, photographers, etc. Depending upon the season and time of day, visitors can see a wide variety of wildlife. An abundant small mammal population attracts a large number of raptors, including the occasional eagle.
Visitors can walk about twenty miles of developed trails or take a Self-Guided Driving Tour through the area. A Visitors Center features wildlife and environment displays.
A number of points of interest are available. They include, to mention a few, a Waterfowl Habitat View, eleven Millet Dikes which are drained in June and planted with Millet and reflooded in the fall as feeding areas for waterfowl, and many named trails of varying lengths.
Three picnic areas offer tables,and toilets. One even provides a ramp for launching human-propelled boats and canoes into the lake during the summer months.
Throughout the year Middle Creek staff offer educational programs for the family. A variety of topics are covered, and all a free. Call for a calendar.
School Programs include a wide range of wildlife related topics for all age groups. Call for further details.
Note that waterfowl and small game hunting is permitted at Middle Creek during their seasons. Call the Resident Manager for details. Non-hunters want to know this as well.
photo by Joe Kosack/PGC Photo