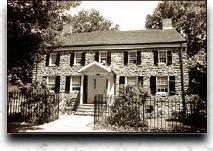 The Bronx County Historical Society provides a great field trip for families, group members or students with exciting visits to The Museum of Bronx History and the Edgar Allan Poe Cottage, theme programs, neighborhood walking tours, and school projects.
The Museum is in the 1758 Valentine-Varian House, a part of Revolutionary War history. The beautiful fieldstone home was built by Isaac Valentine in a symmetrical style called Georgian Vernacular.
Today the structure is the home of the Museum of Bronx History. The front parlor features a display about the development of the area, while two other rooms contain changing exhibitions. Everyday mid-18th century life is recalled through a variety of artifacts. Plantings, an herb garden, and the Bronx River Soldier monument can also be seen.
The Edgar Allan Poe Cottage was his final residence in 1849. In this farmhouse, after losing his wife, Virginia, to tuberculosis, Poe wrote Annabel Lee, Ulalume, The Bells, and Eureka, some of his best known works.
Refurbished and restored, the Cottage looks as it did when Poe lived here -- down to the colors of the walls. The sparsely furnished main floor includes, among other items, a 19th-century cast-iron stove, a rocking chair, a desk, and other furnishings that may have been used by Poe. A narrow staircase leads to the couple's bedroom, whose ceiling is barely six feet high. In the house the life of Edgar Allan Poe in Fordham is brought to life through a house tour that is complemented by an award winning audio-visual show.
The Historical Society has much to offer groups of all ages in the way of Tours and Lectures. Guided Tours can be arranged by walking, bicycle, horse, train or boat, with topics like The Bronx Heritage Trail, Art Deco in Bedford Park, Woodlawn Cemetery, Ecological Views, Metropolitan New York Waterways, and many others. Walking Tours last 90 minutes and Bus Tours 2½ hours. Special attention is given to local landmarks, the derivation of street and place names, and architectural and municipal features.
Lectures cover a wide variety of interesting subjects and are delivered by experts in their fields.
School Groups can participate in Theme Programs that stress hands-on activities, role playing, storytelling, mapmaking, field trips, and a variety of other activities that recreate local history. Students are encouraged to become involved in historical research to achieve a better understanding life today. They might develop their own exhibits, do genealogical research, or form a Junior Historical Society, to name a few activities.
The Society offers a significant opportunity to enhance a history curriculum of elementary or high school students.
Photo Credits: The Valentine-Varian House and the Edgar Allan Poe Cottage courtesy of the New York City Department of Parks & Recreation, by Simon Benepe