Built around 1819 by Walt Whitman Sr., this weathered farmhouse and the surrounding West Hills served as inspiration for Walt Whitman, one of America's greatest poets.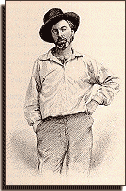 Changing exhibits include Whitman memorabilia, photographs, books, and excerpts from writings and letters. Special events such as poetry readings, lectures, educational programs, an Arts and Crafts Festival, and the Walt Whitman Birthday Celebration are held during the year, giving individuals and families great opportunities to become more familiar with Walt Whitman, his works, and Long Island history.
Guided Tours feature the audio visual presentation, The Good Grey Poet, Walt Whitman's own voice taken from a wax cylinder; a visit to the historic rooms including viewing Whitman's Schoolmaster's Desk; and the exhibit, Walt Whitman -- A Long Islander.
Educational Programs for Elementary and High School Groups relate directly to the New York State Social Studies curriculum, and include hands-on activities like, Explore: a farmhouse tour comparing everyday 19th and 20th century life, architectural oddities, and featuring special exhibits, video, and workshop (90 minutes); and Discover: a comprehensive program presenting an integrated view of Walt Whitman (2 hours, 30 minutes).
Several other unique programs are offered, as well as two Reach Out Programs conducted in the students' classroom. Programs allow a minimum of 15 and maximum of 55 students.