World Trade Center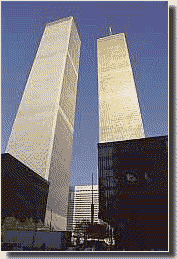 Observation Deck
Two World Trade Center
New York, NY 10048
(212) 435 7379

On September 11, 2001, I took this page down and replaced it with a modest memorial. Since then a number of readers have e-mailed me, asking me to repost this page.

In spite of the unimaginable horror and sadness that have been thrust upon us, New Yorkers, those in and near Washington DC, and Americans all over have shown a resiliency and determination that are an inspiration to the world. The outpouring of love, courage, and faith that has been evident since the first sign of trouble is the most wonderful thing I have seen in my life and an unmistakable statement to the soulless murderers that any "victory" they have accomplished exists only in their own twisted minds, and that it will be short-lived even in that dark pit of evil.

My sympathy goes to those who have lost loved ones in this disaster. You are not alone in this.

My undying admiration and gratitude go to the firemen, police officers, and thousands of other rescue workers who have put and are putting their lives on the line to save any possible survivors and bring order to this chaos. President Bush, Mayor Giuliani, Governor Pataki, and all of the other officials involved in our recovery are doing an amazing job, and I am confident that we will actually emerge from this mess stronger than we have been in years.

The new mission that the United States has embarked on -- the elimination of terrorism -- is truly a matter of life and death for freedom loving people. I join President Bush in his resolve and will gladly do anything the government requires of me to help us accomplish this noble and necessary goal.

Finally, on the financial front, I hope that investors remember that America is still here, that we are still the strongest country in the world, that our businesses are still the best businesses in the world, that our people are the most generous of all, and that we are not going anywhere anytime soon. Have faith and hold the line. Invest in our future!

Following is the original text of my listing for the World Trade Center. Won't it be wonderful when I can write a page for the new WTC!
---
The famous World Trade Center in New York City, designed by Minoru Yamasaki, is a complex of seven office buildings and an enormous underground shopping concourse. Of course what makes the World Trade Center famous is the two towers, 1 WTC and 2 WTC. Each has something to offer. 1 WTC features Windows on the World, an elegant restaurant with a magnificent view. 2 WTC features two observation decks -- indoors on the 107th floor and outdoors above the 110th floor, more than 1,300 feet above the city.
On a clear day, visitors can enjoy a panaoramic view reaching more than 55 miles. On the open promenade at the top it can be a bit windy at times. But with no roof, the whole world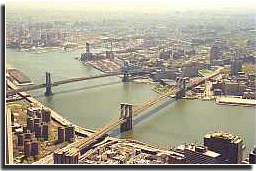 seems to open up. Sort of like flying while remaining on the ground. The promenade is open if the weather is right, not too windy. That's a view of the Brooklyn and Manhattan Bridges on the left.
Back inside, an exhibit based on the theme, "Everything You Ever Wondered About the WTC and More" uses display panels to explore interesting topics, adding to the experience. And the price of admission to the observation deck includes a 6-minute motion-simulated helicopter ride through New York City, passing the Verrazano Bridge, flying over Central Park, down Times Square, and back to the WTC Helipad. Quite a trip!
In addition to the Observation Deck, the N.Y. Skyline Cafe on the 107th floor offers great meal packages to groups of 15 or more with the Deck Combo Plan. Call (212) 775 0436 for complete information.
The WTC in itself is larger than many cities, population and activity-wise. It includes a multitude of restaurants and various services, as well as a tremendous shopping mall and a world class hotel. The lobby is decorated with beautiful art by contemporary masters, and live performances are held throughout the year -- free to all who would enjoy them.