Pick Your Own in
Other Attractions: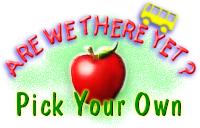 Northern New Jersey
Cahill's Farm
311 Pequest Road
(CR 603)
Andover, NJ 07821
(973) 786-5429
PYO tomatoes, pumpkins. Farmstand with a variety of fresh produce. Hayrides available for groups only.
Valley View Farms
Route 565
Augusta, NJ 07822
(973) 383-6565
PYO raspberries, pumpkins. Farm stand with a variety of fresh produce. Hayrides (groups only). Petting Zoo with domestic animals.
Boyce Berry Farm
Burnt Tavern, Rt. 537
Clarksburg, NJ 08510
(609) 259-9198
PYO blueberries.
Blossom Hill Farms
Eiker Rd.
Cranbury, NJ 08512
(609) 799-0226
(609) 799-7275
PYO apples, peaches, strawberries, raspberries, and pumpkins.
Riamede Farm
122 Oakdale Rd.
Chester, NJ 07930
(908) 879-5353
New Jersey's first PYO apple orchard. PYO apples, pumpkins, tomatoes and Indian corn. Hayrides available for school groups and on Columbus Day only for the general public.

Stults Farm
Cranbury Neck Rd.
Cranbury, NJ 08512
(609) 799-2523
PYO strawberries, raspberries, peas, lima beans, cucumbers, peppers, green beans, sweet corn, tomatoes, zucchini, melons, okra, eggplant, pumpkins, and specialty vegetables.

Pochuck Valley Farm
Route 517
Glenwood, NJ 07418
(973) 764-4732
PYO assorted vegetables, peaches, pears, plums, apples, pumpkins. Farm stand/Deli with a large selection of produce and other items. Hayrides.
Lee Turkey Farm
Hickory Corner Rd.
Hightstown, NJ 08520
(609) 448-0629
PYO apples, cherries, nectarines, peaches, beans, squash, tomatoes, peas, sweet corn, strawberries, pumpkins, and other produce. Farm market sells a variety of produce and other items. Special Features: Hayrides, Guided Tours.
Demarest Farms
Vandemburgh Street
Hillsdale, NJ 07642
(201) 666-0472
PYO apples, pumpkins. Country store with large variety of fresh produce, bakery, many other delicious items. Hayrides. "Hay-Maze" attraction for kids. Special exhibits. At time of writing, Demarest was considering opening a petting zoo with domestic animals. Call.
Ideal Farm & Garden Center
Route 15
Lafayette, NJ 07848
(973) 579-3893
PYO pumpkins. Farm stand with a variety of fresh produce. Hayrides. Petting Zoo with domestic animals.
Sussex County Berry Farm
Route 206 North
Newton, NJ 07860
(973) 579-5055
PYO strawberries.
Little Acres Farm Market
Lawrenceville-Pennington Rd.
Pennington, NJ 08534
(609) 737-6502
PYO strawberries.
Peaceful Valley Orchards
150 Pittstown Road
Pittstown, NJ 08867
(908) 730-7748
PYO strawberries, apples, pumpkins, and Cut-Your-Own flowers. Peaceful Valley's market sells a wide variety of fresh produce. Baked goods are also sold and families can enjoy various festivals throughout the season. Open May through November.
Terhune Orchards
330 Cold Soil Road
Princeton, NJ 08540
(609) 924-2310
http://terhuneorchards.com/
PYO apples, pumpkins, strawberries, blueberries and flowers. Special Features: Open year round. Farm store with organic vegetables and fruits from their 200 acre, family owned farm. Fresh baked pies, apple cider donuts and desserts, Freshly pressed apple cider. Special events and festivals are held throughout the season. Children's programs, school tours, corporate events, gift baskets shipped nationally.
Sun HIgh Orchard
19 Canfield Ave.
Randolph, NJ 07869
(973) 584-4734

PYO raspberries in the spring and apples and pumpkins in the fall. PYO field-grown flowers are also available. Sun High is a 25-acre farm raising peaches, apples, sweet corn and a variety of vegetables and cut flowers, which are available in the farmer's market. Special attractions include farm animals and seasonal events.

Whistle Stop Nursery & Farm
95 John Ringo Road
Ringoes, NJ 08551
(908) 782-5783
PYO asparagus, strawberries, blueberries, cucumbers, tomatoes, eggplant, peppers, muskmelon, watermelon, winter squash, pumpkins and zucchini. Christmas Trees. Special Features: Fall Hayrides and many special events and attractions throughout the season. Call for further information.
Hoff's Farm
25 Fulling Mill Rd.
Rio Grande, NJ 08242
(609) 886-1962
PYO strawberries.
Tindall Farm
1201 Old Trenton Rd.
Trenton, NJ 08690
(609) 426-1123
PYO strawberries
Farms View
945 Black Oak Ridge Rd
Wayne, NJ 07470
(973) 839-1212
PYO strawberries and pumpkins. Hayrides and barnyard animals. Farmstand with wide variety of locally grown produce.