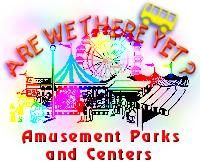 New Jersey
Belmar Playland & Roof-Top Golf
1400 Ocean Ave.
Belmar, NJ 07719
(732) 681-5115
Features about a dozen rides for youngsters, video games, miniature golf, and skeeball. Note: Open Friday, Saturday and Sunday only, except during summer when it is open daily. 60 - 90 minutes northeast of Philadelphia, 90 minutes south of New York.
Bowcraft Playland
2545 Route 22 West
Scotch Plains, NJ 07076
(908) 389-1234
www.bowcraft.com
Mid-sized park features more than 20 rides and lots of games. Good deal for groups making deposit at least 2 weeks before outing date. 1½ - 2 hours north of Philadelphia, 1 hour southwest of New York.
Branchburg Sports Complex
47 Readington Road
Branchburg, NJ 08876
(908) 203-1600
www.branchburgsportscomplex.com
This sprawling 78,000 square foot complex offers just about everything sports, with three indoor turf fields, four batting cages, an arcade with redemption center, and a 9,000 square foot fantasy-themed laser tag arena. Sports leagues and camps and fitness programs are offered. See the official website or call for further information. 1½-2 hours north of Philadelphia or south of New York.
Casino Pier Water Works
800 Ocean Terrace
Seaside Heights, NJ 08751
(732) 793-6488
www.casinopiernj.com
Water amusements feature 27 slides and flumes, and pools with tidal wave. Kid's Cove is a water area for youngsters. 34 land rides include a beautiful antique carousel with hand-carved animals. Penny arcade. 1 - 1½ hours east of Philadelphia, 90 minutes south of New York.
Clementon Amusement Park
PO Box 125
Clementon, NJ 08021
(609) 783-0263
www.clementonpark.com
This big park features a giant water area called Splash World with a wide variety of slides, log flumes, chutes, tidal pools, rapids, and more. A 10,000 sq. foot kiddie pool has lots of fun and games. There are also many high-tech land rides, an antique carousel, a miniature railroad, a showboat, a Petting Zoo, and plenty of good food. 30 minutes southeast of Philadelphia, 2 hours south of New York.
Fantasy Island
320 West 7th Street
Beach Haven, NJ 08008
(609) 492-4000
www.fantasyislandpark.com
This attractive park has a Victorian flavor with its chandeliers and ornate lamp posts. Adults can enjoy slot machines, blackjack, poker machines and more in a casino-like setting. A Ferris Wheel and many other rides and midway games are for the entire family. 60 - 90 minutes east of Philadelphia, 2½ hours south of New York.
The Funplex
East Hanover Location:
182 Route 10 West
East Hanover, NJ 07936
(973) 428-1166
Mount Laurel Location:
3320-24 Route 38
Mount Laurel, NJ 08054
(856) 273-9666
http://www.thefunplex.com/
With two locations in New Jersey, this great family attraction features a variety of exciting adventures including arcade and redemption games, birthday parties, and indoor rides such as bumper cars, go-karts, laser tag and much more.
The Mount Laurel location also offers a 16-lane bowling alley plus outdoor fun such as a water park, bumper boats, miniature golf, a driving range, and more.
There are lots of group activities, too, including team-building exercises for all ages, including corporate groups.
Gillian's Island Water Park
Plymouth Pl. & The Boardwalk
Ocean City, NJ 08226
(609) 399-0483
www.gillianswaterpark.com/pages/index.asp
This water park has a variety of rides, from hair-raising to serene. Lil' Buc's Bay is an interactive children's play area with a pirate ship, lighthouse and more. 60 - 90 minutes southeast of Philadelphia, 3 hours south of New York.
Gillian's Wonderland Pier
6th St. & The Boardwalk
Ocean City, NJ 08226
(609) 399-7082
www.gillians.com
Next door to Gillian's Island, this park features an antique carousel, monorail, log flume, and much more -- over 32 rides in all. Gillian's has been providing family fun for more than 65 years. 60 - 90 minutes southeast of Philadelphia, 3 hours south of New York.
Grand Slam USA
51 Stouts Lane
Monmouth Junction, NJ 08552
(732) 274-1919
This indoor facility operates year-round and features batting cages, slam dunk basketball, and arcades.
iPlay America
110 Schanck Road
MFreehold, NJ 07728
(732) 577-8200
http://www.iplayamerica.com/
iPlay America is a 115,000 square foot climate controlled indoor family entertainment center. iPlay America hosts nine indoor rides, exciting attractions, and over 200 arcade games, party rooms, Broadway Sweets, Mixx Frozen Yogurt, and Sonny's Boardwalk Stand. This exciting, state of the art indoor theme park where the city meets the boardwalk truly offers something for everyone!
Jenkinson's
300 Ocean Avenue
Point Pleasant Beach, NJ 08742
(732) 892-0600
www.jenkinsons.com
Jenkinson's virtual empire of fun along beautiful Point Pleasant Beach includes rides for all ages, arcades, batting cages, miniature golf, entertainment, symphonic concerts, birthday party programs, and more. There are many special events.
Keansburg Amusement Park
275 Beachway Ave.
Keansburg, NJ 07734
(732) 495-1400
www.keansburgamusementpark.com
This family park features about 15 thrilling rides plus 2 kiddie parks with about 25 rides. There are also arcades, batting cages, and a water slide. 60 - 90 minutes northeast of Philadelphia, an hour south of New York.
Land of Make Believe
354 Great Meadows Rd.
Hope, New Jersey 07844
(908) 459-9000
www.lomb.com
Great park for young children, with lots of rides, attractions, and the world's largest wading pool. 90 minutes north of Philadelphia, 90 minutes west of New York.
Mountain Creek Waterpark
200 McAfee Vernon Rd. (Rt. 94)
Vernon, NJ 07462
(973) 864-8444
www.mountaincreekwaterpark.com
Well known, Mountain Creek is a big park with many exciting and ingenious water rides.
Morey's Pier & Mariner's Landing
3501 Boardwalk
Wildwood, NJ 08260
(609) 522-3900
www.moreyspiers.com
Wildwood, one of the nation's top resorts, features Morey's Piers with dozens of amusements, rides, and 2 water theme parks. Each park has a unique flavor, but both have water rides, roller coasters, carousels, and more. 1½-2 hours southeast of Philly, 3½ hours south of New York.
Six Flags Great Adventure
PO Box 120
Rt. 537
Jackson, NJ 08527
(732) 928-1821
www.sixflags.com/greatadventure
One of the largest theme parks in the nation, with more than 100 rides, shows and attractions. Hair-raising rides, including Batman, the Viper, and others are here. Top-notch entertainment includes performances by famous bands. A Drive-Thru Safari allows for a closeup look at wild animals. About an hour north of Philadelphia 1½ - 2 hours south of New York.
Splash Zone
Schellenger Ave. and the Boardwalk
Wildwood, NJ
(609) 729-5600
www.splashzonewaterpark.com
Splash Zone is the area's leading water park, with 16 attractions, from relaxing to hair-raising. Lots of good food.1½-2 hours southeast of Philly, 3½ hours south of New York.
Sports Park USA
2441A Route 22 West
Union, NJ 07083
(908) 687-0500
50,000 square-foot area with batting cahes, bumper cars, rides, miniature golf, mini-bowling, and more. 1½ - 2 hours northeast of Philadelphia, 45 minutes southwest of New York.
Sports World Indoor Amusement Park
200 Route 17 North
Paramus, NJ 07652
(201) 599-1717
Baseball, softball, bumper cars, rides, video games, golf, simulator rides, and more. 2½ hours north of Philadelphia, 30 minutes northwest of New York.
Storybook Land
6415 Black Horse Pike - Cardiff
Egg Harbor Township, NJ 08234
(609) 641-7847 • 646-0103 ext. 5
Especially for the younger set, Storybook Land features an antique carousel and other rides, as well as storybook attractions such as Snow White's Cottage, the Three Pigs' House, Humpty Dumpty, and many others. Christmastime brings a breathtaking 300,000 light display. Great for birthday parties and children's group activities. A Petting Zoo rounds out a nice family visit. 60 - 90 minutes east of Philadelphia, 2 hours south of New York.
Tomahawk Lake
PO Box 109
Sparta, NJ 07871
(973) 398-7777 • 478-7490
Good sized water park with rides, activities, and a large white sand beach. Make your summer reservations in early spring for this park (groups). 2 hours north of Philadlphia, 60 - 90 minutes west of New York.