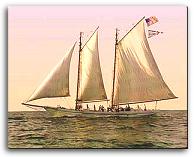 Formerly known as the Delaware Bay Schooner Project or the Bayshore Discovery Project, the Bayhsore Center at Bivalve forwards the mission of protecting the enivironment, history and culture of New Jersey's Bayshore region through education, preservation and example.
The main vehicles for BDP's work include the schooner A.J. Meerwald and the Delaware Bay Museum.
Schooner A.J. Meerwald
New Jersey's Official Tall Ship, the 115' historic schooner A.J. Meerwald is the centerpiece of Bayshore Discovery Project's programs.
From April through November, this beautiful ship offers a busy calendar of Public Sails, exploring the natural resources of the Delaware Estuary and the coastal waters of New Jersey. Special Events, including dinners, concerts, holiday celebrations, educational sails, and other family activities, are available throughout the season. A typical trip lasts 2½ hours. During the summer months Schooner Day Camp offers a unique opportunity for youngsters to experience the sailing life. Call (800) 485-3072 for details.
The Meerwald is also available for charter, and what a wonderful way to celebrate a birthday, wedding, or other special time!
School and other youth groups can participate in an exciting Education Sail that feature a selection of three Education Stations onboard. Choose from
Water Quality
Petroleum in the Estuary
Oystering in the Delaware Bay
Plankton
Wetlands
An Experiment in Seeing
And a Customized Program
Shore-based programs and other activities available at Meerwald's home port, Bivalve, include
Wetlands Walk
Maritime Industry Tour
Schooner Visit
Other Hands-On Activities
An up-to-date calendar and other news are available on BDP's official website.
Delaware Bay Museum
1727 Main Street
Port Norris, NJ
(856) 785-2060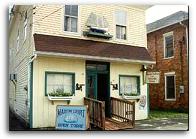 The Delaware Bay Museum houses Maritime Traditions of Delaware Bay, an exhibit that interprets shipbuilding, oystering, commercial fishing, and recreational uses of the bay. Hundreds of wooden schooners were built on bayshore shipyards, including Jersey Oyster Schooners like the Meerwald. A fine collection of photographs and artifacts depicts the richness and culture of these fine old days.
With so much to offer for families and groups, Bayshore Discovery Project is a great resource for fun and education, and for experiencing first hand an era that played such an important role in making the United States the wonderful country that it is