This handsome Dutch Colonial house, built in 1787, was the home of the Reverend Elias Van Bunschooten, appointee of the Synod of the Dutch Reformed Church to take charge of three consistories: Maghagamack, Minisink and Walpack. The Reverend Van Bunschooten was thirty-seven when he arrived in 1785, and served the area until his death, forty years later.
The house changed little over the years. Van Bunschooten bequeathed the original thousand-acre property to his nephew, Elias Cooper, who added a small section to the east. In the 1870's the family struck oil in Pennsylvania and "modernized" parts of the house by removing some of the chair rails and changing window trim. When Cooper died he divided the property among his five sons, and the original home remained in his descendant's possession until the late 1920's.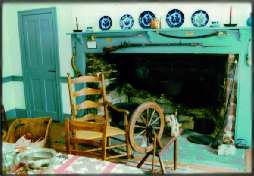 Today the house is operated as a museum by the Daughters of the American Revolution (DAR) and occupies 6 1/2 acres of land in beautiful northern New Jersey together with a huge barn, ice house, privy, and wagon house. Visitors can enjoy an impressive collection of period antiques -- original furnishings of the house -- as well as vintage clothing, quilts, china and cookware. Revolutionary War weapons, paintings, dolls, and other items can also be seen. The photo to the left shows the 1787 Keeping Room featuring a Charlesville Musket (American Revolutionary War), flow blue china and a spinning wheel.
The docent-led tour takes visitors through the entire house, including the Entrance Hall, featuring a mahogany Chippendale desk. The 1787 bedroom furnishings include memorial closets a dowry chest and quilts from the period. Another bedroom reflects the 1860's, with a fine example of Empire furniture. The Wagon House includes a vintage carriage and farm implement collection.
Researchers will appreciate the Museum's extensive genealogical research library, concentrating on New Jersey, New York and Pennsylvania.
Christmas in July is a very special annual event here. The home will be open earlier than usual and decorated with winter greens, Victorian and American Christmas Trees. Tours will be conducted throughout the day and crafters and demonstrators will be on the grounds. And there will be food. It's a fun step back into time for the family, and a very different July indeed.