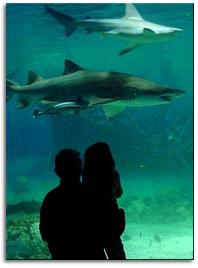 Jenkinson's Aquarium is a privately owned facility located on the boardwalk in Point Pleasant Beach, NJ. Opening in June of 1991, Jenkinson's Aquarium has proven to be a valuable educational and recreational resource, as evidenced by its growing popularity. The aquarium is dedicated to educating the public on all aspects of marine life and conservation. Each exhibit is designed to promote awareness of the animals, their habitats and conservation.
Exhibits such as Atlantic Sharks, Pacific Sharks, Coral Reefs, Penguins, Alligators and Seals give you the opportunity to get up close to animals from around the globe. Another attraction, the touch tank, allows visitors to touch live animals ranging from a sea star to a juvenile shark! And you can visit the new Rainforest exhibit, which includes pygmy marmosets – the world's smallest monkeys!

Either in the community or at the aquarium, the friendly staff greet visitors in a courteous and professional manner and are on hand to answer questions. The Aquarium also features a Gift Shop that offers an extensive selection of marine related products.
Special Programs
Jenkinson's Aquarium offers guided tours year round for groups of 20 or more. From the months of September-February you can add a special ½-hour Focus Program to a tour. Outreach Programs for your Schools and other Groups are also available. The following programs are available as either a focus or outreach:
Barnegat Bay Watershed Wonders
Discovering Invertebrates
Fishy Tales and Shark Scales
Habitat Habits
Marine Mammal Mania
Outrageous Reptiles
Penguin Pointers
Rainforest Revelations
Species Survival
Teachers can schedule a visit and tour the Aquarium free of charge with our education department staff. The Aquarium also offered professional development workshops, educational programs for all ages, and Perky the Penguin Birthday Parties. Call (732) 899-1659 for more details.