Built in 1741 atop a bluff overlooking River Road (known then as Raritan Landing,) the stately Georgian manor home of Cornelius Low Jr. today is home to the Middlesex County Museum.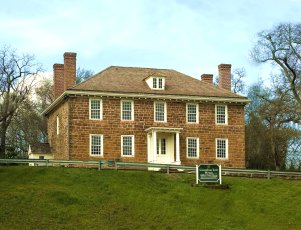 Visitors approach the site via an interpretive pathway with narrative plaques and other media that illustrate the history of the Low House.
The building itself has been beautifully restored -- down to the original paint color and wood roof shingles -- to reflect the times when Cornelius Low Jr. lived here with his family, some 260 years ago.
Dedicated to public education, the County Museum presents exhibitions designed to enhance visitors' awareness of the state's history and its impact upon our nation.
A sampling of past exhibits includes, among others:
Women's Spheres: 300 Years of Women in Middlesex County and New Jersey
The Wizard of Menlo Park: Thomas Edison Invents a New Century
Life in the Raritan Valley: Cornelius Low, Commerce and Community and
Home Front USA, New Jersey 1940-1945
Information on current and future exhibits can be found at the Museum's official website, linked above.
Guided tours, workshops, lectures, outreach programs, and other activities complement the Museum's displays to help bring history to life for students of all ages and other Museum visitors. Visit the Museum's official website for complete details.
Thanks to Jack Abraham for the photo of the Cornelius Low House