This great zoo, located in Van Saun County Park, is home to a wide variety of wild and domestic animals, living in recreated habitats natural to each species. The grounds are well-maintained, and the animals well cared for -- important for you and me. Without zoos like this that participate in the Species Survival Plan, the world would be a much poorer place.
This zoo has many different species of birds, some exotic and rare, such as the endangered Andean condor. Reptiles, like the Red-footed Tortoise, the Green Iguana, Boa Constrictor, and American Alligator will be found here, as will mammals such as the Ferret, Opossum, Arctic Fox, American Bison, Mountain Lion, Golden Lion, Tamarin, and many, many others.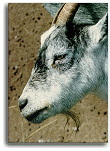 The Farmyard with domestic animals such as chickens, geese, sheep, goats, pigs, cows, and a great Belgian Draft Horse and the North American Wetlands Aviary are just two of the special exhibits here that draw 500,000 visitors annually.
A variety of family activities and programs throughout the year will entertain and educate children of all ages. Anyone interested should call for details. And talk about birthday parties? How about a ferret, hedgehog, or tarantula as a special guest! Others are available.
School Programs for grades Pre-K and up include 'Sense'-Sational Animals (grades Pre-K - 1): a unique introduction to animals through the five senses; Survival Strategies (grades 2 and up): an exploration of incredible adaptations for survival; Dispelling the Myths (all grades): unravels riddles like Are Snakes Really Slimy? Can Owls Really Turn Their Heads all the way around? and more; and several others, including thematic Guided Tours of the zoo for Pre-K and up. A program takes 30 - 40 minutes per group of 25.
In-School Programs are available for Bergen County schools.
This zoo has a lot going for it. Anyone who visits is sure to want to return.
Goat photo © Patrick Tadeushuk