Already a world-class interactive science museum, Liberty Science Center reopened its doors in 2007 after a $109 million upgrade with a new vision and new goals,aiming "to serve as a catalyst for events that advance the realm of science, technology and society – locally, nationally and internationally." The Center's mission is forwarded by a stunning array of permanent hands-on exhibitions, a regular calendar of fun and exciting temporary exhibits, a Digital 3D Theater, and the nation's largest IMAX Dome Theater. There may be no better resource in the world for families, educators and students to explore the ever-expanding universe of science and technology and how these subjects influence our lives.

Permanent Exhibitions include, among others:
Skyscraper! Achievement and Impact
At 12,800 square feet, Skyscraper! is the Center's largest exhibition. The exhibit's four main components – Skyscraper World, Designing & Engineering, The Construction Site, and The Building – offer a variety of presentation formats, from multimedia to full-body kinetic experiences and experiment-based lab stations, to explore the world of the giant structures that are part of New York City's claim to fame.
Infection Connection
This interactive exhibition is organized into six content areas to present the science, technology and social challenges that influence the fight against global infectious diseases: Infection Connection, Humans and Microbes, Spreading Diseases, Tools and Technologies, Actions and Outcomes, and Decisions.
Communication
What could be more important? This exhibition explores the evolution of human communication through four exciting interactive components: Body and Language; Symbols, Signs and Writing; Print, Audio and Video; and Signals and Networks.
Our Hudson Home
Organized into five zones plus an outdoor deck overlooking Liberty State Park, Our Hudson Home delves into the interrelationships between nature and humanity along the river. Three of the zones, Our Harbor, Our Hudson River and Our Wetlands, each feature oversized and smaller aquarium tanks observing live aquatic and terrestrial organisms indigenous to these areas. And interactive displays allow visitors to experience what it is like to operate cargo cranes, experiment with streams, sand banks and dredging operations on a sedimentation "action table," and more. The Hudson Field Station offers an educational laboratory for even more comprehensive visitor experiences.
Eat and Be Eaten
This exhibit illustrates predator-prey relationships through four exciting components, featuring a variety of live species: Hide and Seek, Chemical Warfare, Built for the Kill, and Cheating Death.
Breakthroughs
This is an interactive, multimedia, exhibition addressing current issues and events in science and technology.
I Explore
Here children ages 2 - 6, with their parents, can learn about themselves and their world in a fun, interactive environment as they experiment water play, simple machines, making music on a "rock xylophone," and much more.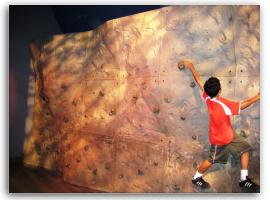 In addition to new exhibitions, visitors will find that some of their favorite attractions at Liberty Science Center are still there:
The Bernoulli Blower
Sonic Tube
Spark Chamber
Rock Wall
Digital Darkroom
and many others.
The IMAX Dome Theater and Joseph D. Williams Digital 3D Theater offer changing selections of exciting features that bring to life some of the most beautiful, thrilling, intriguing, and sometimes even dangerous places and activities in the world.
Educational Programs
The possibilities are almost endless here when it comes to educational programs for teachers and students alike. Teachers can participate in summer science programs, half- and full-day workshops, and numerous other activities and seminars designed to help teachers "find ways to inspire their students through meaningful science learning."
A small sampling of on-site education programs for students includes:
Workshops – about an hour long
Backyard Safari (grades K-2): Four interactive nature stations help students understand the plants and animals that surround us.
New Jersey Herps (grades 3 - 8): New Jersey is rich in amphibian and reptile life. Students learn about these fascinating creatures by observing live animals.
Stargazers (grades 1 - 12): Different cultural perceptions of the sky are explored through the folklore of Greek, Native American, African and Chinese mythologies in the Center's portable planetarium.
Residency Programs (2 - 5-day programs)
Forensics (grades 5 - 12): Students use real forensic science to solve crimes.
Food Science (grades 7 - 12): All about nutrition, the basics of food chemistry, the relationship of calories to energy, and much more.
Physical Science (all grades): Students can study a wide variety of the physical sciences, such as chemistry, energy and motion, the nature of matter, light, electricity, and more.
These and many other Workshops, Residency Programs, Overnight Camp-Ins, Outreach Programs, and even Online Programs combine to cover just about any science-related topic imaginable, offering a hands-on education to students of all ages and interests.
Overnight Camp-Ins can include a unique Birthday Party experience that children are sure to remember.
Visit the Liberty Science Center's official website (linked above) for the latest, and be sure to visit this very impressive educational facility.
Photos courtesy of Liberty Science Center